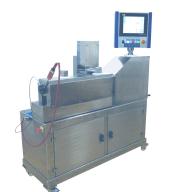 Twin screw extruder
screw components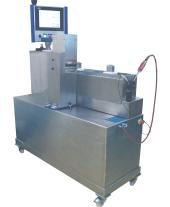 twin screw extruder (side view)
Twin screw extruder
This machine is designed for the pharmaeutical industry to process mixtures of polymers and active drugs.
It is built in compliance with the GMP pharmaceutical specifications.
Very compact and wheeled , this machine can be installed in clean rooms. 
We can built this type of extruding machine for hourly capacities from 0,1 to 20 kg/h.
Characteristics : 
- modular twin screw extruder 25 mm diameter and 21 mm of axis distance 
- barrel elements of 150 mm heated by electrical resistances and cooled by water  or air 
- screw elements of length 50 mm assembled on a splined shaft
- brushless drive unit 3,7 kW
- max torque on screws 60 Nm
- variable speed up to 400 rpm
- stainless steel frame
- lengthwise opening of the barrel 
- tactile PLC display for control and data storage
- volumetric feeder with double-screw mixer
Back