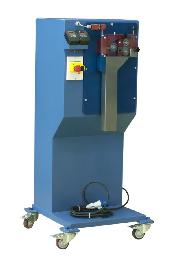 Milling pelletizer

Enlarge view
Cutting pelletizer

Enlarge view
Pelletizer
We propose two types of pelletizers for capacities ranging from 1 to 50 kg/h:
- a milling tool model which can cut 1 to 3 rods , with a capacity maxi around 20 kg/h
- a knives model for hot cutting when positionned  just after the die head (head cutting) or using an independent puller system for cold cutting.
On these pelletizers, cutting speed and pulling speed are independently managed, this enables the adjustment of  the pellets dimensions, diameter and length.
These pelletizers are currently linked to a small cooling bath. 
Back