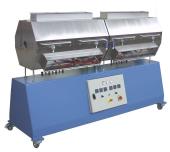 Polymerisation oven

Enlarge view
Polymerisation oven (detail view)

Enlarge view
Polymerization oven 
The polymerization ovens are designed for continuous cooking of thermoset rubber or silicone.
Characteristics :

- built by one meter length elements, the oven can be equipped with an infeed belt conveyor made of stainless steel
- made of two hinged half-shells 
- the infrared heating elements enable to reach a temperature up to 500°C.
- fully insulated 
- a safety system stops heating, when the oven is open.
- size of the opening, approx Ø 100 mm
Back