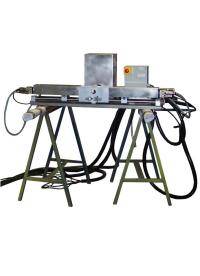 final mix machine

Enlarge view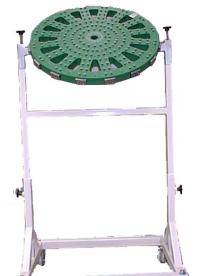 mold for implant

Enlarge view
Pharmaceutical line for silicone moulded implants
This development of pharmaceutical line contains several machineries for various stages of completion :

- Premix machine
This machine is built on the basis of a standard column drill with a 2 crossed movements table.
The mixing zone is located in an insulation box equipped with  input and output compartments, 2 gloves and air dust filters for air in and air out .
A secured mounting to the table with crossed movements  allows adjustment of clearance between the bowl and the mixer, Settings and clearances are done manually by rotating the command wheels of the table. The mixer is driven by the spindle (adjustable speed)
A gear motor  handles and drives the mixing bowl (variable speed).
- Final mix machine

It consists of 2 electric actuators that push the premix into a rotative dynamic mixer.
Both are positionned opposite to each other and perpendicularly to the axis of mixing.
This equipment  placed on a table is easy to dismantle for cleaning. 
- Computerized supervision by dedicated SPIWIN software, for data display and control of the installation. 
Back